Phase 2, Civic Vtec Type-R Spec engine with a Turbo
Posted by Mark on Monday, November, 10th, '01 @ : 9:50AM
from the Speedfreak dept.
Phase 2 Build up.
This time with a stronger B-Series Engine with Japanese Spec Civic Type-R Parts and more.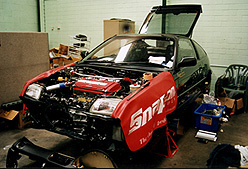 This section will cover the new Vtec B16A Turbo build up. Each section will lots of text and as many detailed pictures as possible. I will cover the whole conversion form the D-series to B-series engine as best as possible. All the do's and don't etc. I will start off with the conversion then go onto the performance mods and then turbo install.
I started off with my Australian Honda CRX 1991 "ED9" model with a D16A8 engine. This engine is very similar to the Japanese ZC non-vtec DOHC engine. I then began to to look for a B16A front cut. I was initially looking for a CRX SiR front cut as that would be the easiest conversion with regards to the drive shafts and engine mounts. But I looked high and low for one. But every time I found one it either had the drive shafts missing or some engine mounts missing. I then found out that the '89-'91 DA6 Japanese Integra came with a B16A. This is car was only available in Japan. The chassis did come out in Australia buy only as a non-Vtec DOHC 1.8 litre 105Kw. So once again all the good stuff only comes out on Japan. Anyway this DA6 front cut was fairly easy to find. I found a Black 1990 DA6 front cut with only 70,000Km on it and no gearbox. But it did have drive shafts and brakes etc. All was there apart from the gearbox. This didn't really bother me as I wanted to find a Y1 LSD box anyway. So next thing on the list was a Y1 LSD gearbox. I searched everywhere and while I was at a wrecker looking at another front CRX SiR front cut with missing gearbox and drive shafts I noticed a B16A gear box on a shelf above some Honda engines. I climbed up and had a closer look and YES it was a Y1 with an LSD stamp on the case. These gearbox's only came on the 89-90 CRX SiR. They were either stamped on the side with ink "LSD" or Stamped on the top of the case as mine was. You can confirm that the box has an LSD by looking through the drive shaft holes, If you can see directly through then it has an LSD, If there is a thick steel bar in the way then it's just a standard differential. These gear box's were a factory option in Japan only, Making these LSD equipped gearboxes quite rare (well one that is in good working order too). Take a look and the pics below.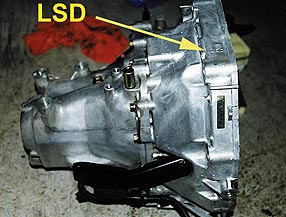 Larger Picture.
The pic above is the Y1 LSD Gearbox. I have been told by a few sources that the Factory LSD is a Clutch type LSD, But I'm not sure, a few have even said it's a viscous type LSD. I any ones does know for a fact please email me to let me know.
Click on the picture below for a detailed description of the engine mount modifications that was carried out to install the new B-Series engine into the CRX.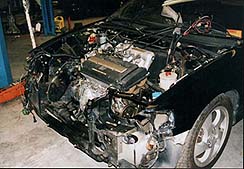 Engine Mount Modifications.
After the installation of the engine and new ECU, The drive shaft saga began and then the car was put on the Dyno in standard (160HP) Japanese form. Click on Dyno Graph below to see more details of the Drive shaft install, new ECU install and Dyno run.

Engine Drive Shaft/ECU install and N/A Dyno run.
How did the car drive after the engine transplant ??

After the engine transplant I was very nervous to see how the car would drive. Horrible thoughts went through my mind. Will the car drive properly, nice and smooth, no funny noises or pulling to one side etc. etc... Well after the first 30 sends of driving I knew it was going to be fine. The car drive like a dream. Just like it drove before with the "D" series engine in it. It just had a lot more poke. More torque and the roar of the V-tec cutting in was music to my ears. The car drive perfectly straight with my hands off the wheel and I tested out full lock turns in both clockwise and anti-clockwise to check that the CV's were ok.
This could not have turned out any better. It was just fantastic. I guess it wasn't that hard to transplant this engine after all. Well maybe I just fluked it.
Turbo Engine Build-up.

This is where it all gets interesting. After having the B16A V-tec Engine installed and running in the car for a while without any problems whatsoever. It was time to pull the engine out again and get it ready for the Turbo configuration.
Firstly I needed to decompress the engine. the 10.2:1 stock comp it way too high to run the amount of boost I wanted to run. I decided to purchase a set of O.S. Giken pistons from Japan. These are probably the best pistons I could find for my application. These guy's at O.S. really know what they are doing they produce full alloy Nissan GT-R racing engine block's etc. etc. Just click on the picture below to check out more.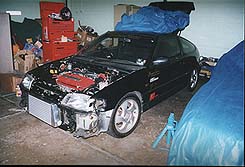 New Engine installation & Turbo Setup.